360 Degree Feedback
What is 360-Degree Feedback?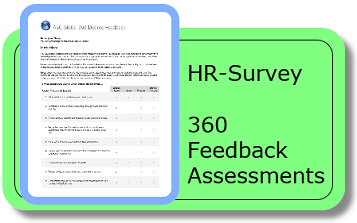 360 Degree feedback systems incorporate multiple perspectives (perceptions and insights) by using feedback from a variety of sources. These sources include peers, subordinates, customers, self, supervisor, and others.
This feedback us usually anonymous and comes from the employees and others who work with this person. Usually a group of about 8 to 16 individuals are selected to provide feedback by completing a survey questionnaire. These surveys are easily administered via the Internet.
This feedback provides an opportunity for individuals to see how their work and job performance is viewed by others. This feedback can be used for employee (professional) development. This process is often used for developmental purposes. Although, it is possible to combine 360-Degree Feedback with Performance Management Systems.
Tip: Using a 3rd Party Vendor helps ensure confidentiality of the process.
Software Vendors and Links
HR-Survey.com
(https://hr-survey.com)
360 Degree Feedback surveys on-line. Dozens of demos to review. Customized solutions to meet your needs. An excellent on-line resource.
Common Uses of 360-Degree Feedback
:
Employee Development
Performance Appraisal
Performance Management
Training Needs Assessment
Evaluation of Teams
Leadership Development
Self-Assessment
Performance Metrics
Appraisal 360
(https://www.appraisal360.co.uk/)
Whether you want to give focus to personal and professional development for your people, or offer a more balanced approach to appraisals, 360-degree feedback is your answer. Our powerful and popular online tool is one of the best around and helps make 360 feedback an enjoyable and revealing experience.
Arc Software Consultancy - bespoke online 360 feedback
(http://www.arcsoftwareconsultancy.com/pages/hr/360.aspx?section=hr&id=360)
Bespoke online 360 feedback system with full online management reporting (with Excel exports). Automated benchmarking to compare scores and the ability to create and publish your own surveys without an IT developer.
Provide training/orientation: Feedback processes involve use of one or more questionnaires, confidential information, and acceptance by different areas of an organization. Training and orientation is needed to facilitate a smooth feedback process. During this training/orientation, employees should be informed of what 360 Degree Feedback is and why it is being implemented at your organization. You may want to provide samples of the questionnaire items and/or feedback results.
Ascendus Technologies
(http://www.ascendus.com)
We have an innovative 360-Degree Feedback and Survey Platform. This tool has been used by several organizations including Sony Ericsson, London Health Sciences Center, PPD, the Environmental Protection Agency and Radio Networks. The tool allows companies to set up and administer their own multi-rater surveys and teamwork assessments. Our tool is a true enterprise-class software platform designed for flexibility, reliability and scalability.
Good feedback will include the following
:
Information on when and where the incident/action/situation occurred
Information on how their actions impact others
How their behaviors are (or not) consistent with department/organization goals & objectives
Suggestions for improvement, if applicable
AssessTEAM - 360 Degree Feedback Software On The Cloud
(https://www.assessteam.com/)
360 degree feedback software from AssessTEAM delivers an easy to use tool for comprehensive and effective 360 degree employee evaluations.
Bowland Solutions
(https://www.bowlandsolutions.com/)
We deliver highly tailored and cost-effective online performance appraisal and 360 degree feedback solutions. These will reduce the administrative burden, reduce paperwork and the costs associated with the appraisal process. See our website for free case studies, articles, blogs and request an online demonstration today.
BullseyeEngagement
(https://www.bullseyeengagement.com/solutions/employee-performance-management-system.asp)
Schedule formal performance reviews and 360s or initiate them ad-hoc. Stay on track with organizational objectives using helpful notifications and reminders. Quickly retrieve actionable insights with high-level dashboards that display executive summaries, appraisal histories, and key metrics.
Business Decisions, Inc
(http://businessdecisions.com/)
Developer of the
focus
integrated software system developed to measure and improve an organization's "people" through training, career development, performance and succession planning.
focus
turns Human Resources into a measurable and quantifiable asset.
Capterra's 360 Degree Feedback Software Directory
(https://www.capterra.com/360-degree-feedback-software/)
Capterra's 360 Degree Feedback software directory is a free, comprehensive resource that lists solutions for performance appraisal, employee surveys and multi-rater feedback.
Avoid using the word "You": anywhere near the beginning of your feedback. Employees may become defensive if they feel they are being acused of something.
CareerLab
(http://www.careerlab.com/360.htm)
We're a career strategy and leadership development firm based in Denver, Colorado USA. Since 1978, more than 300 brand-name corporations in 75 industries have hired us to provide Career Strategy, Testing & Assessment, Executive Coaching, Leadership Development, and Outplacement. In addition, every day of every year, we drive remarkable career advancement for upper-level managers and executives, consultants, entrepreneurs, and top professionals.
CDR Assessment Group, Inc.
(https://www.cdrassessmentgroup.com/assessments/360-leader-scan/)
The 360 Leader Scan is a robust multi-rater feedback tool that does not soft pedal input. This tools combines numerical and narrative feedback to maximize performance development success.
Cognology 360 degree feedback
(https://www.cognology.com.au/products/360_degree_feedback/)
The easy way to run 360 degree feedback projects on the web or your intranet. With user friendly reports for individuals and groups. And you can customize it to suit your needs.
Try not to compare employees: Do not compare co-workers. Only compare the issue against your expectations, against standards set for earning rewards, against a person's stated goals, or against mutually set objectives.
Concord Consulting
(https://www.concordconsulting.com/tools/360-degree-feedback-tool/)
Our surveys and 360 degree evaluation tool help both people and organizations meet their full potential.
Cornerstone Performance
(https://smb.cornerstoneondemand.com/)
Graphics based performance reviews that are useful to everyone. Using our visual analytics, gain a deeper understanding of your organization. Cornerstone Performance Growth Edition was made specifically for rapid growth organizations that know people are essential to the success of the business.
CR Systems
(https://crsystems.co.uk/)
360 Degree Feedback, Psychometric Testing and Employee Engagement. We provide the tools, tests, resource and expertise to measure the people side of your business.
Culture Amp
(https://www.cultureamp.com/products/employee-effectiveness/)
Action-oriented 180° and 360° feedback for managers, individuals and teams.
CustomInsight
(https://www.custominsight.com/360-degree-feedback/360-feedback-overview.asp)
CustomInsight specializes in 360 degree feedback, employee surveys, and other HR assessment and talent management applications. Focal 360 is a comprehensive 360 degree feedback solution designed for individual participants or groups of any size. Focal EE is a complete, customizable solution to assess the level of employee engagement, satisfaction, and organizational effectiveness.
DataStar, the Survey Specialists
(https://www.datastarsurveys.com)
DataStar is a leading provider of survey management and data processing services, specializing in employee feedback surveys and 360 assessments.
DecisionWise 360 Degree Feedback
(https://www.decision-wise.com/360-degree-feedback/)
DecisionWise specializes in using 360 degree feedback and employee surveys for leadership and organization development. With DecisionWise, you work with experts and receive a customized solution.
EasyGoingSurvey.com
(https://www.easygoingsurvey.com/Surveys/Human_Resources_HR.aspx)
Online survey tool. Create simple to complex surveys in a matter of minutes with real-time results. Free account and advanced subscriptions available.
EchoSpan
(https://www.echospan.com/)
EchoSpan provides Online 360 Degree Feedback, Performance Reviews and Total Goal Management customized, hosted and managed for a single affordable fee. We offer a 14-day trial and also an interactive demo.
Envisia Learning
(https://www.envisialearning.com/services)
Envisia Learning offers a full range of 360 degree feedback assessments with one major advantage: an integrated online action planning and support tool that allows leaders to take what they learn from a behavioral assessment, reflect on it and build an action plan by selecting from our extensive competency-based resource library.
ETS
(https://www.etsplc.com/360-degree-feedback/)
ETS is a leading HR Consultancy that has been providing bespoke consultancy and world class technology solutions to blue-chip UK and international businesses for over 20 years. ETS solutions are used by over one million employees of leading UK and international companies such as Shell, Royal Bank of Scotland, Lloyds Banking Group, Virgin Atlantic Airways, Centrica, Ikea, HMV, PepsiCo, Sainsbury's, REXAM, Allianz, Thomas Cook and Bupa. ETS is recognised for its focus on high-quality, personalised services. Our team of expert Business Psychologists combine best practice and the latest thinking in delivering 'ideal world' solutions to our clients. We specialise in Employee Engagement, 360-Degree Feedback, Leadership Development and wider Performance and Talent Management.
eXplorance Inc.
(https://explorance.com/360-degree-feedback-education/)
Blue is a web based enterprise-class software for surveys, appraisals, 360 degree feedback, tests, and more ...
Feedback Online
(https://www.feedbackonline.com/)
FeedbackOnline provide 360 Degree Feedback Software & Questionnaires Online & services in areas related to personal, team and organizational effectiveness.
Full Circle Feedback
(https://www.fullcirclefeedback.com.au/)
An on line 360-degree feedback system - a robust, flexible 360 degree survey process resulting in comprehensive reports, coaching, action plans and ongoing learning. Our focus is upon skills development and ongoing change.
Grapevine Evaluations
(https://www.grapevineevaluations.com/)
Grapevine provides an online 360 degree feedback software tool that makes it easy to perform a 360 degree evaluation, employee performance evaluation, employee assessment and employee performance review all using our customized online employee evaluation software survey system.
Korn Ferry
(https://www.kornferry.com/products/assessments-overview)
We offer a comprehensive line of services designed to add to your organization's talent development and management capabilities. Using our experience with some of the biggest and most diverse organizations around the world, we have created assessment solutions that give you the freedom to create the right program for your organization.
LeaderNation
(http://www.leadernation.com)
LeaderNation is a cost-effective, web-based leadership development solution. Our suite of tools enables consultants, coaches, and HR professionals to quickly create customized leadership competency models and 360 feedback surveys. LeaderNation's user-friendly, intuitive design offers a cost-effective solution for employee development, ultimately assisting organizations retain top talent and focus their workforce.
Lumus360
(https://lumus360.co.uk/)
Lumus supplies 360 degree feedback surveys to organisations, consultants and development professionals.
Mercer 360
(https://www.mercer.com/about-mercer/lines-of-business/talent/mercer-360-a-modern-feedback-solution-for-modern-leaders.html)
Multi-rater feedback is widely recognized as a highly accurate and impactful tool for identifying and developing talent. We understand the assessment needs of organizations and carefully designed Mercer 360 accordingly, never losing sight that the process is about more than insight. It's about moving the performance needle in a positive direction within your organization!
OPTM360
(https://www.optm360.com/)
The OPTM360 is a 360 Degree Feedback and Assessment tool designed to help managers and peers quickly and easily identify and change behaviors to improve leadership and management. skills. OPTM360 develops Talent faster. OPTM360 uses Insights from Harvard Business Publishing's Best-Selling Book on Talent to Accelerate the Development of Your Teams. People behind OPTM360 is Marc Effron, President, The Talent Strategy Group and Miriam Ort, Vice President, Human Resources, UK and Ireland for Pepsi.
Panoramic Feedback
(https://www.panoramicfeedback.com/)
Panoramic Feedback, the leading-edge shape of multi-rater feedback. Internet-based, so there's no expensive software to maintain. User-friendly: quick, attractive, and easy to customize. Reasonably priced.
Peoplefluent
(https://www.peoplefluent.com/products/performance/performance-appraisals-and-results)
Peoplefluent's 360 degree feedback is a key component of the talent management performance suite and provides users with a multi-dimensional view of employee performance.
Perfode - Engage, Assess, Excel
(http://www.perfode.com/)
Perfode delivers web based, Performance and Talent management solution that makes it easy to produce high quality Performance Reviewes and align your workforce around key strategic objectives. Perfode empowers you to change once a year "report card" event into the very foundation of your high performance workforce. Our Product Suite Includes * Performance Appraisal with multi-rater assessment, language audit., flexible Review Form Designer with many built in ready to use competencies. * Fully-linked, cascading goals that could be set at higest level's of the organization and are linked to the individual employee goals. * Powerful visual analytics for the managers and HR professionals.
Pilat HR Solutions
(https://www.pilat.com/solutions/360-degree-feedback/)
The Leader in Competency-Based Succession Planning Software, 360 degree Assessment and HR Software Products.
Primalogik 360
(https://primalogik.com/360/#!home)
Web-based solution with customizable questionnaires, automated email reminders, results analysis and historic comparison of results, multilingual support and more...
Psychological Associates
(https://www.q4solutions.com/services/360-surveys/)
This portion of the www.q4solutions.com (part of the www.dwq4.com international site) introduces the expertise of our Company and International Network in the 360° feedback instruments and methods, in liaison with other HR Development initiatives: assessment, training, coaching, team building, etc.
Quantisoft - Employee and Customer Surveys
(http://www.Quantisoft.com)
Quantisoft's Leadership Assessment Surveys provide insightful feedback to business leaders, and organization-wide information for senior management and HR. Identify ways to increase leadership effectiveness across the organization.
QuestBack
(https://www.questback.com/solutions/employee-insight/)
Enterprise Feedback Management (EFM) is a system of processes and software that enables organizations to centrally manage deployment of surveys while dispersing authoring and analysis throughout an organization. EFM systems typically provide different roles and permission levels for different types of users, such as novice survey authors, professional survey authors, survey reporters and translators. EFM can help an organization establish a dialogue with employees, partners, and customers regarding key issues and concerns and potentially make customer specific real time interventions. EFM consists of data collection, analysis and reporting.
Reactive 360 Appraisal
(https://www.reactive360.com/)
Online suppliers of 360 degree performance appraisal software including the populare quick360 system
Reviewsnap
(https://www.reviewsnap.com/features/360-degree-feedback/)
Our 360-degree feedback solution includes unlimited anonymous surveys allowing for numerous reviews on employee performance, automatic notifications that act as reminders for upcoming or past due surveys, a statistical dashboard offering real-time graphics, numbers and feedback on the company's strengths and weaknesses, and full administrative control over any 360-degree survey, which includes selecting who can rate an employee and the duration of a survey duration.
SelfStir.com - Free 360 Degree Feedback
(https://www.selfstir.com/)
SelfStir provides a free 360 degree feedback and self assessment tool to help individuals develop core and leadership competencies in a connected environment with professional and peer coaches.
Sigma Assessment Systems
(https://www.sigmaassessmentsystems.com/assessments/sigmaradius-360-feedback/)
Has put together SigmaRADIUS Service Bureau, an expert team and a library of tools that can help your organization to develop its employee potential.
Small Improvements - Performance Reviews and 360 Degree Feedback
(https://www.small-improvements.com/)
Dehassle the performance review: Small Improvements lets you focus on actual feedback and improvements, not on ratings and metrics. It's web-based, hosted, affordable and pretty. Your staff will grasp the concept immediately. If you've used Facebook before, you're almost overqualified. 360 degree feedback, performance appraisals, objectives and microblogging, all in one unified application. Free 10 user license available.
Smart360
(https://www.appraisal-smart.com/360-degree-feedback-appraisal.htm)
The Smart360 system offers an unparalleled opportunity for employees to obtain targeted and high-quality feedback from peers, direct reports, managers, and customers-with a view to modifying their behavior for improved working relationships, team synergy, job performance, and customer service. The unique, context-targeted technology of Smart360 enables highly targeted question sets for each individual Rater Group-covering its unique working relationship and involvement with the employee.
Spidergap
(https://www.spidergap.com/)
Create and run 360° Feedback assessments that help your employees to take action on personal development
STAR 360 Feedback
(https://www.star360feedback.com/)
STAR is a 360-degree feedback technology. We specialize in helping consultants and corporations to streamline the 360 process. Our systems are simple and efficient. Surveys can be taken online, over the phone, or on paper. Call Bonnie at 888-467-8575 to learn more.
SuccessFactors 360 Degree Feedback
(https://www.successfactors.com/en_us/solutions/performance-and-compensation/performance-goals.html)
SuccessFactors offers on-demand performance management software including 360 degree feedback, employee appraisals, goal management, succession planning, compensation planning and more.
SumTotal 360 Degree Feedback Software
(https://www.sumtotalsystems.com/solutions/talent/360-degree-feedback/)
SumTotal 360 Feedback automates the competency-based multisource assessment process to facilitate employee development planning.
Survelio.com - Survey as a Service
(http://www.survelio.com)
A fast, flexible and affordable web-based 360 degree feedback service.
SurveyConnect, Inc
(https://www.surveyconnect.com/)
Use ActiveView 360 to automate the entire process, from the notification of the participants to the delivery of online real-time reports.
Survey Tools for Windows
(http://surveytools4windows.com/surveys/360-degree-feedback/)
Survey Tools for Windows is the market leading employee survey software. Versions are available for employee, 360 and customer surveys. A fully functional demo may be downloaded at no charge. The site also has numerous articles on conducting surveys.
Synergita
(https://www.synergita.com/features/360-degree-feedback.html)
We all love our work, don't we? Could you all imagine how we all will be motivated at work if we receive sincere feedback from our peers or seniors? Check out this software , 360 degree performance appraisal from Synergita. This will help you receive honest and relevant feedback from your co-workers and employers, which in turn can improve your performance. You can as well comment about your colleague without disclosing your details.Check out their live demo.
ThinkWise 360 and Team Performance Surveys
(http://www.thinkwiseinc.com/360_degree_feedback_products.html)
The ThinkWise 360° report provides a comprehensive understanding of an individuals strengths and developmental opportunities. This focused developmental guide is aligned around the competencies needed to achieve the organizations strategy.
3D Group
(https://3dgroup.net/)
3D Group's Leadership Navigator series is a suite of reliable and valid 360 feedback surveys for roles from mid level managers to the most senior executive. Our online 360 process is user-friendly and our experienced consultants provide outstanding service.
360-DegreeFeedback.com
(http://www.360-degreefeedback.com/)
Your guide to 360 information and resources.
360DMAX
(https://www.360degreemax.biz/)
360 Degree Max is your one-stop online 360 assessment tool for efficient, hassle-free and simple to obtain 360 degree feedback. Powerful, yet Easy to use. Customizable based on user need. Say no to paperwork and old-school methods. Just automate. Go online.
360 Performance Review Tool
(http://www.360-review.co.uk)
Secure online 360 Review Tool to suit your HR needs, view sample report and try the simple online demo.
Track 360 Degree Feedback
(https://tracksurveys.com/track360/)
Track Surveys provide customised, multi-language online 360 degree feedback and Talent Management tools. HR Consultants - run your own 360 projects using Track's Empower 360 dashboard.
Trakstar Employee Evaluation - Performance Appraisal/Assessment/Review Software
(https://www.trakstar.com/)
Promantek's employee evaluation software (TrakStar) was developed for the HR professional seeking assistance with employee performance appraisals, performance assessments, and performance reviews. Sign up today for free demo of our employee performance management software.
Transcende
(http://www.transcende.net/360-assessment/)
Online 360 appraisals and eCoaching solutions for measurable Leadership 'soft skills' development
TruScore
(https://www.truscore.com/)
We are an assessment company with over 4 decades of experience in 360 degree feedback and assessment customization. We offer a fully managed solution, where our team of experts serve as an extension of your internal team, and where our success is tied to yours.
TTG Consultants
(http://www.ttgconsultants.com)
A comprehsnive site with free stuff on 360 feedback, birkman, organizational development, corporate change, executive coaching and above all our career advancement
viaPeople
(http://www.viapeople.com/360-degree-performance-appraisal/)
Our 360 Feedback product can be implemented in groups ranging from the single digits to many thousands, and combines quick deployment with the ability to create individual feedback reports in a few days or as little as 1 week from the close of the cycle.
VIEWsuite360
(https://www.360degreefeedback.net/)
Flexible 360 Degree Feedback Designed For Talent Development
Vision Metrics 360 Feedback
(https://www.visionmetrics.net/)
Delivering visually stunning 360 degree feedback reports in matter of minutes. We'll help you set up online tools with hassle free technology.
WorkforceGrowth LLC
(https://www.workforcegrowth.com/)
WorkforceGrowth is an effective employee performance management system with instant appraisals and reports.
YSC 360s
(https://www.ysc.com/what-we-do/leadership-analytics/)
YSC is the world's premier leadership consultancy, founded in 1990 and now operating from 18 offices. YSC provides clients with strategic consultancy as well as robust talent and leadership online solutions including 360 surveys and psychometrics. YSC's mission is to release the power of people, combining rich psychological insight with business relevance. YSC works with clients to help solve challenges such as leadership resilience, talent and potential identification, succession planning, leadership insight development and diversity and inclusion.